Jiuh Ching Industries Co., Ltd.--CNC machined parts, auto parts
---
Established in 1987 in southern Taiwan's Tainan City, the ISO 9001:2000-certified Jiuh Ching Industries Co., Ltd. is one of Taiwan's most specialized OEM/ODM (original equipment/design manufacturer) of parts and components for automation equipment for machinery, automotive, motorcycle, optical parts, hardware, electronics parts, and pneumatic machinery parts.
The firm employs a strong research and development team to ensure technological advantage that enables it to offer an extensive range of products. Based on abundant manufacturing ability from over two decades of experience, the firm claims that its products can be made of materials as specified, including aluminum, copper, steel, stainless steel etc., which are precisely made to help customers boost production automation.
Jiuh Ching has installed in-house top-end automated production equipment including CNC/NC machining center, CNCF machining center, composite 65 mode of lathe, automatic eccentric lathe, and automatic loose-cut lathe, which help the firm to design and manufacture reliable products to meet customers' special requirements based on drawings or samples.
Jiuh Ching has widely exported products to the U.S., Canada, Japan, and Southeast Asia, Africa, the Middle East, Central & South Americas. It welcomes customers to provide blueprints or ideas for joint product development. (AW)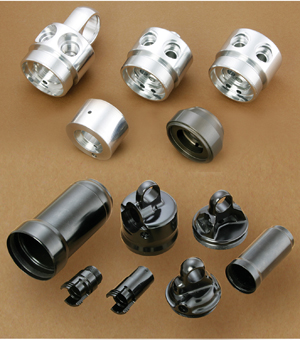 Jiuh Ching Industries Co., Ltd.

No. 26, Lane 169, Zhongzheng 2nd. St., Yongkang District, Tainan City, Taiwan 710
Tel: 886-6-253-5459
Fax: 886-6-253-0804
E-mail: juchin7880@yahoo.com.tw
Website: www.jiuhching.com